15 Top Reliable and Best Removal Companies in London (2020)
Posted By : Logicsofts
7,410 views
Finding the right removal company in London is a time consuming and stressful process.
To get through this hectic process, you need the best removal company to help you.
Hiring a reputed home removal company can make a huge difference in your moving experience.
But how do you choose from the truckloads of moving companies?
There are two ways of doing it:
Complicated Method:
You need to look for a moving agency as soon as you make the decision to move.
Compare the companies and read online reviews about them to find the top three companies among them.
Then ask for quotes from these companies to see which removal company in London fits your budget.
Simple Method:
You can go through our guide to find London the best removalist company in London. Whether you are planning to shift your office, home or furniture to a new location, these London's top removal companies will ensure the safety of your possessions.
The below-listed companies are also affordable in rates.
So let's get started with the simplest method to find the best and reliable removals company in London:
If you are a moving company struggling to generate enough moving leads then you need to re-think your marketing strategy. Need help? Speak to Moving Marketers specialize in generating unique and verified moving leads for removalists company like yours. Want to know, how? Call us on 020 8629 1504 or Request a call back on our website Logicsofts moving marketers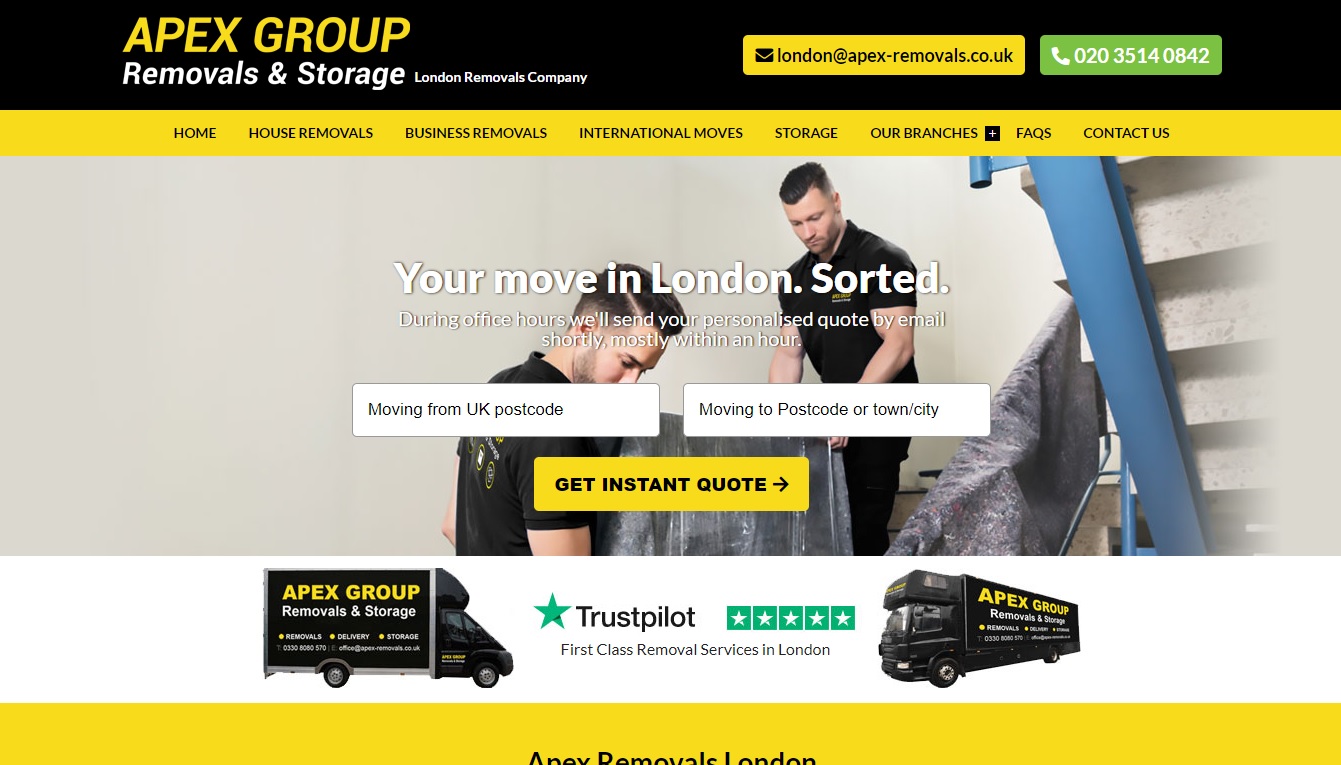 Apex Removals is a professional relocation company in London that offers stress-free moving services. Unlike many moving companies that charge a steep price for weekend relocations, Apex Removals have a single charge for all seven days. They have a very attentive customer service who are always on hand to help the people of London with any relocation requirements.
Services Offered: House removals, office removals, man and van services, packing services, storage solutions, international removals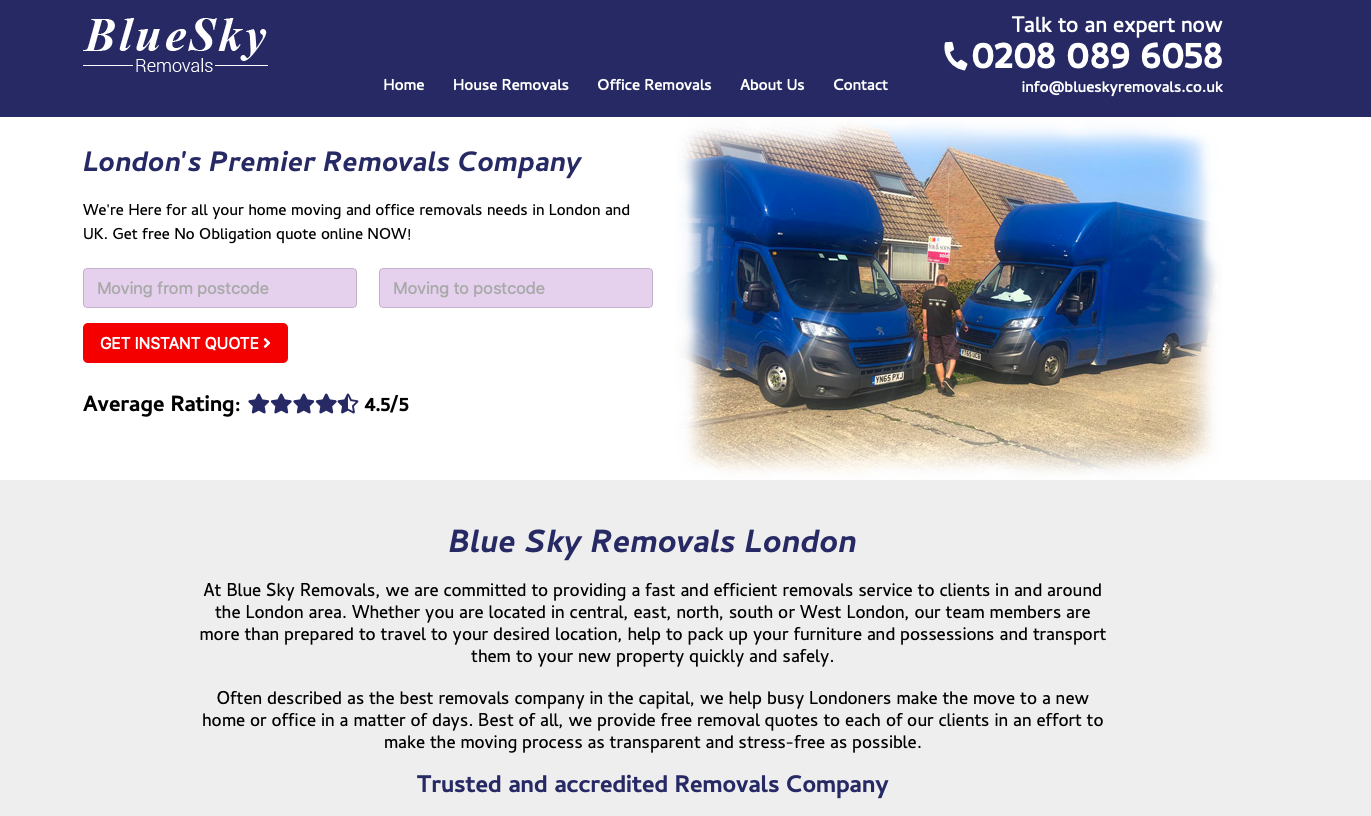 Blue Sky is London's premier removal company offering fast removal services to all their esteemed customers. It is an accredited company known for its excellent customer service. Whether you are looking for hassle-free house removals or smooth relocation of your office from one place to another, you can trust on Blue Sky removals.
Services: house removals, office removals, and packing and storage options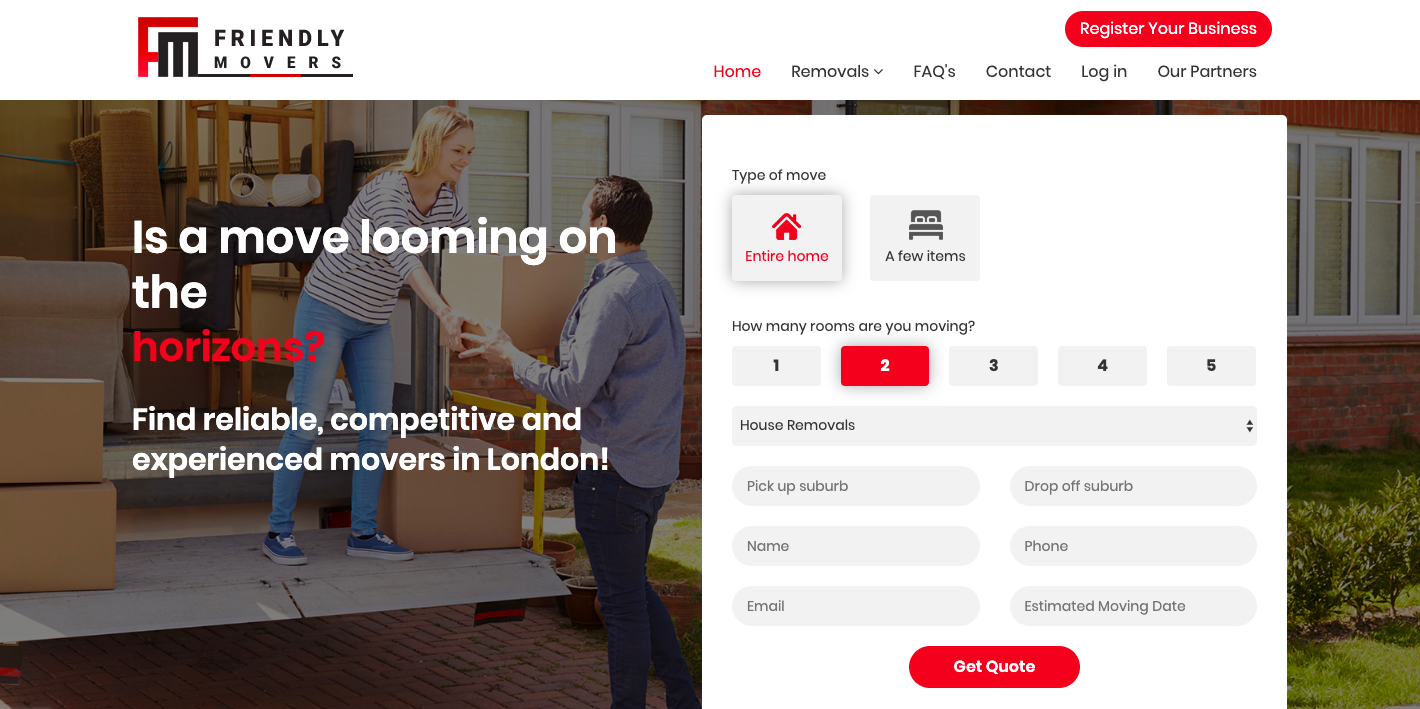 Friendly Movers is one of the most trusted removal company portals and has been in the business for more than 5 years. With growing years, the company has established itself as a reputed moving portal throughout the UK. They help local people finding reliable and trusted removal companies by offering the widest spectrum of removal services using the latest technology. 
They also offer other removal services like dismantling, re-assembling furniture prices, installing office equipment and machinery to their customers. You can select from their various removal packages and can get a free removal quote in no time.
Some of the services offered by them: House Removals, Furniture Removals, Office Removals, Packing and Moving, Piano Movers, Man with a Van and Pool Table Movers.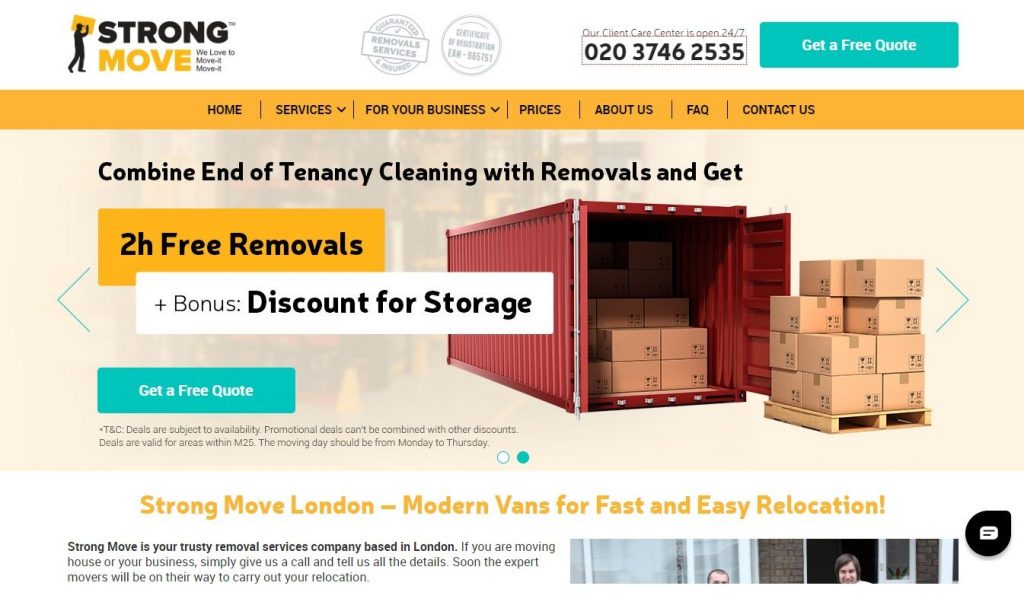 Strong Move has been offering removal services since 2014. They have offered their removal and packing services to over 19500 clients.
Their additional services include packing, tenancy cleaning, and furniture assembly and disassembly. They mostly cover the M25 and nearby areas.
Their services: Domestic Removal Service, Commercial Move and Man with a Van.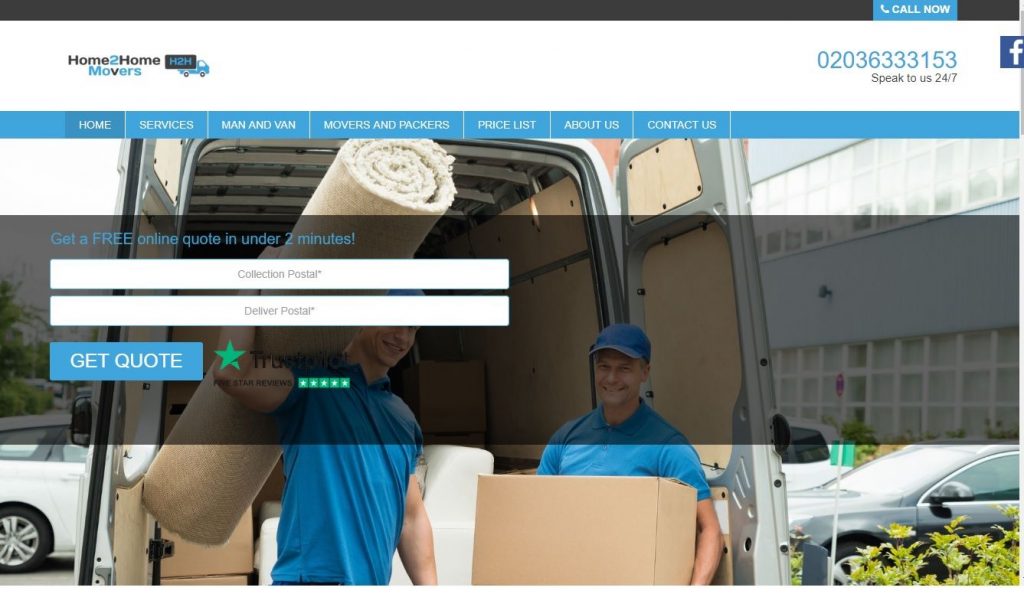 Home 2 Home was established in 2006. Even though they haven't been in this business for years, still has developed as a most efficient and reliable removal company in the UK.
The company provides every type of services like packing, transporting and unpacking at an affordable cost.
Some of the services offered by them: Commercial Removal, Residential Removal, Man and Van, European Removals, Movers and Packers, Long Distance Removals, Piano Removals, Delivery Services, Heavy Duty Safe Removals.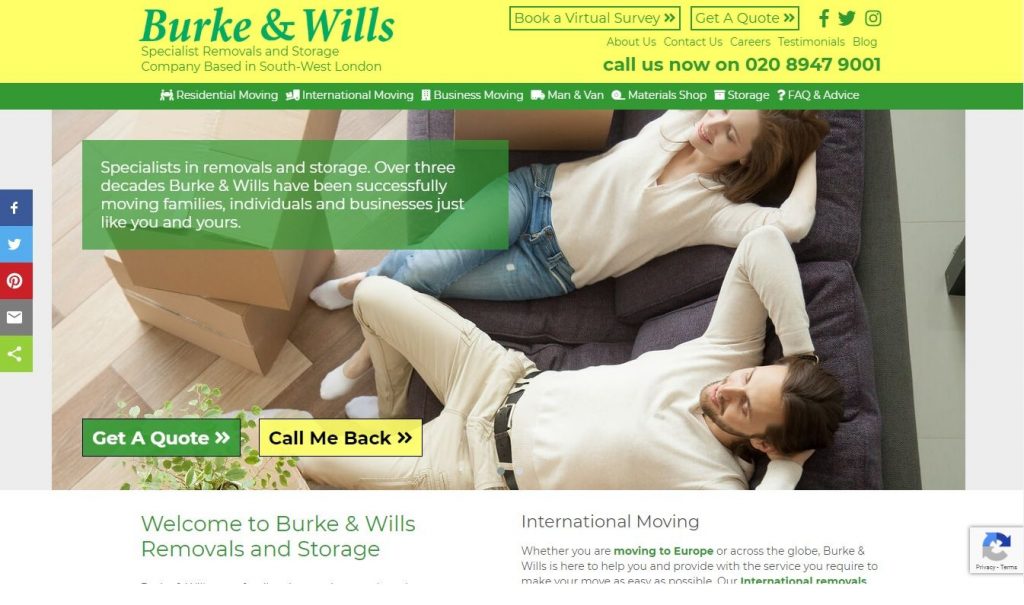 Burke and Wills was founded in 1995 and since inception, it has grown immensely.
This family-oriented removal company is based in South London and offers storage services as well. "Burke and Wills" is known for reliable and efficient services and they get most of their work through referrals.
They also have an international removal team to covers all the aspects of the international move.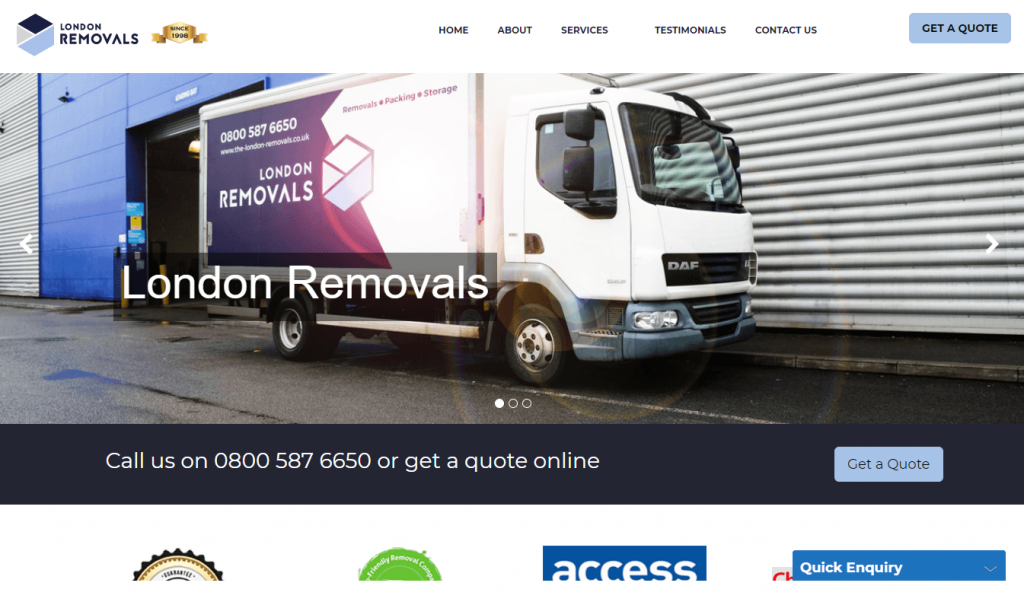 London Removals provides their customers 21 years of removal expertise when moving to a new location, be it commercial or home move. They move businesses and home of every size throughout Europe and the UK.
Their team of packers and movers carefully pack your possession and transport it interstate or overseas. They can also provide you with an accessible and secure storage place to keep your belongings.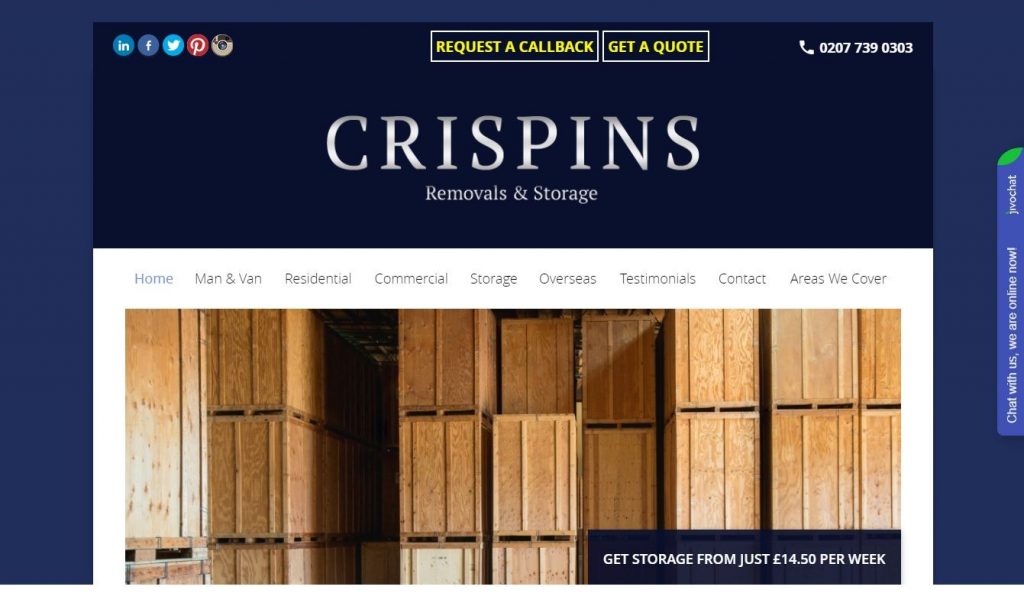 Crispins Removal is a family run, Removal Company located in Central London. They specialize in both household and commercial removals. This family-run company has been there for over 30 years and can meet commercial and household needs.
Whether you want to move your studio apartment to the next street or your four-bedroom home to another state, they provide every level of service.
Some of their services: Man and Van moves, High-Quality Packing materials, Furniture Hoist, Cleaning Services, Disposal.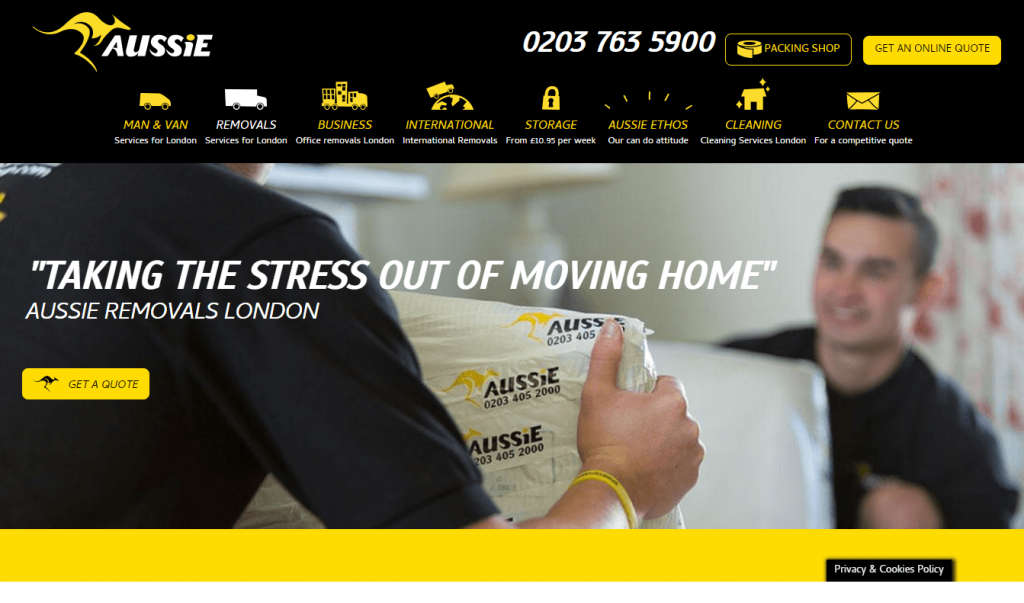 Every removal company in London is not equipped to conduct large moves for five bedroom or corporate headquarters.
Aussie Groups has built the expertise to conduct your big moves. They will assign a dedicated team leader to give you an easy access point.
They have updated equipment to conduct bulky, difficult, fragile, and valuable items.
They allow you to ensure the expensive pieces of technology and fragile items to ensure complete safety.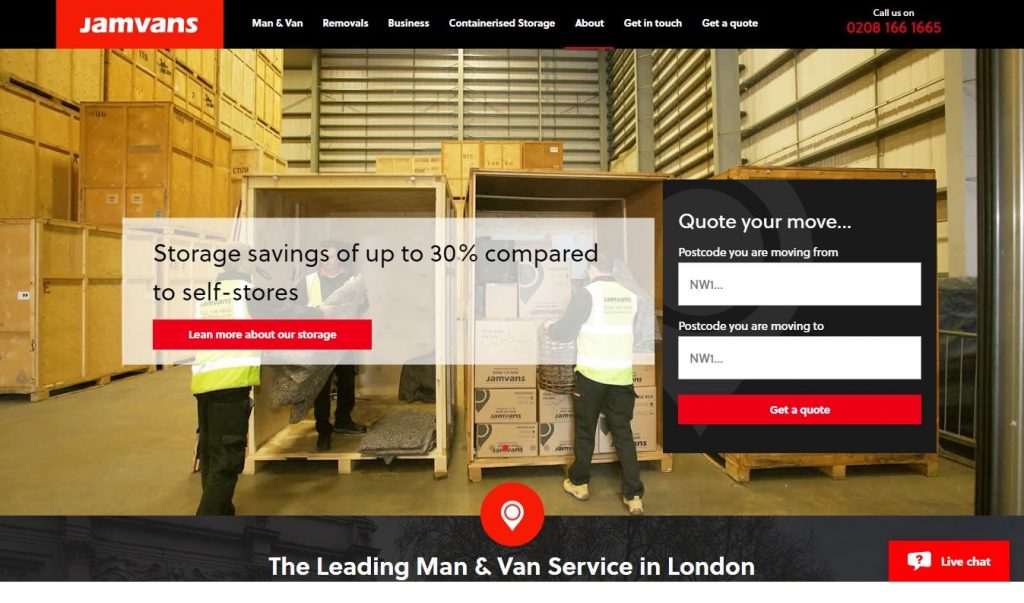 The company was started in 2010 and in 2015 they carried 16 times more moves than what they did in 2010.
They offer different services right from home removal and commercial removals to unpacking services.
They now have acquired years of experience in keeping the move simple and straight and covers many local and interstate moves.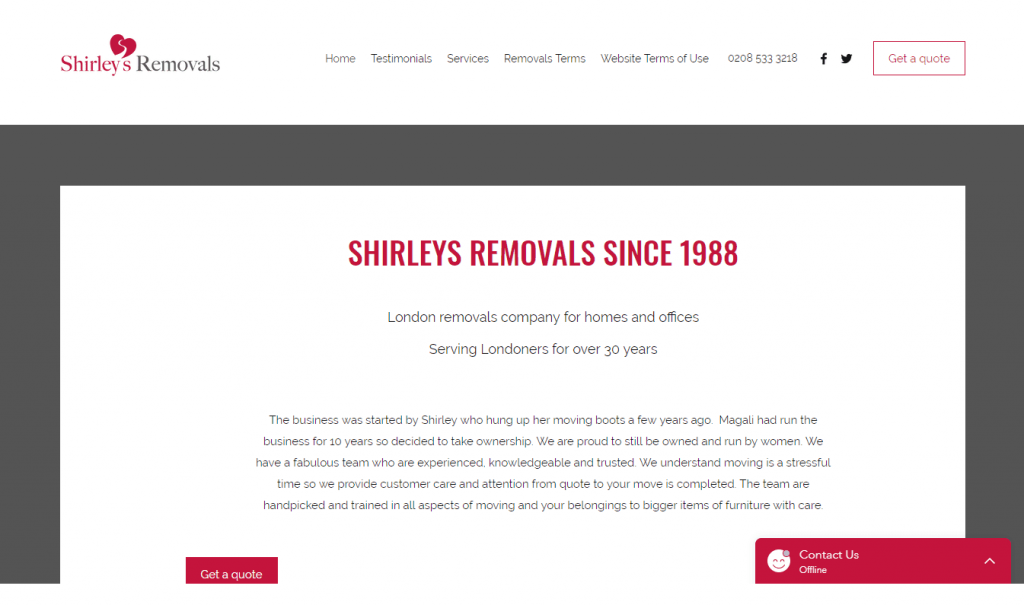 The company was established in 1988 and since inception, they have been successfully completing home and office moves.
This removal business was started by Shirley and she has been running this for 10 years.
Their professionals are trained and handpicked to conduct studio to large house removal services. They offer attentive customer care service and quick quote to help you fix your budget.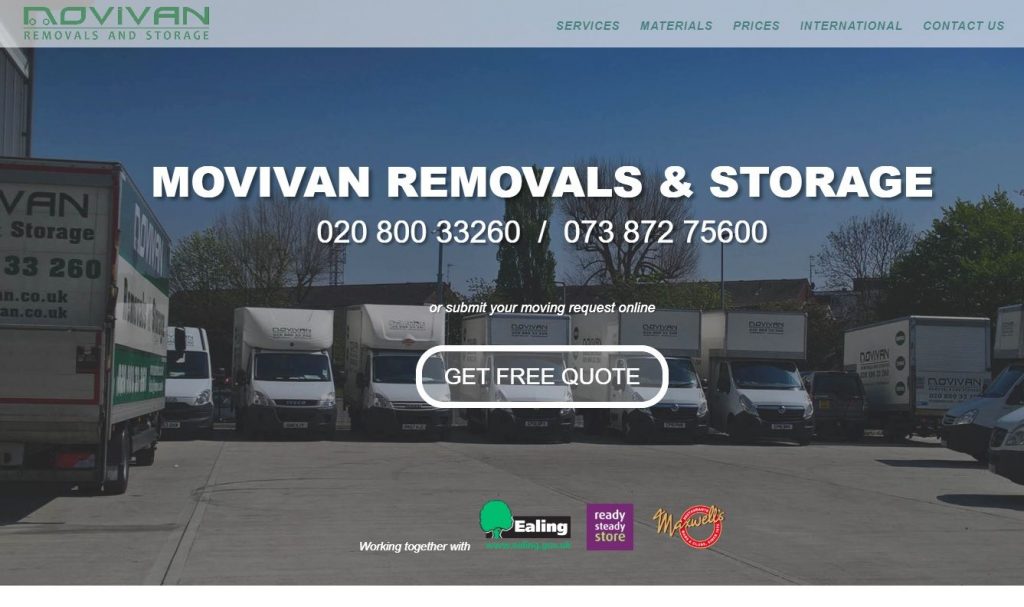 Movivan Removals Firm offers a comprehensive range of removal services with the head office based in Heston, London.
Their nearby boroughs are Richmond, Hounslow, Hillingdon, and Uxbridge. Before the moving day, the company assigns a dedicated surveyor to your property to curate a moving plan for you.
Services offered by them are Home Removals, Commercial Removals, Short and Long distance Removals, Packing and unpacking services, Dismantling and assembling furniture, Packing materials and boxes, Storage solution, and Dumping.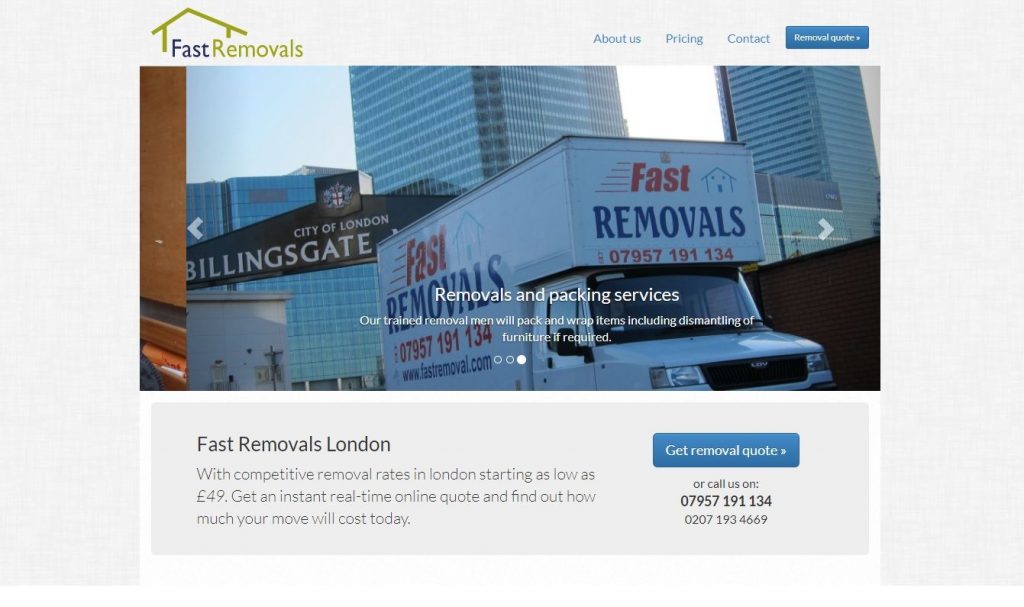 The company offers three removal services- standard removals, man and van and removals and packing service. Fast Removal is based on Greater London and has been in the business since 1999.
They have trained moving experts to take the stress out of the moving process and ensure a safe and hassle-free move.
Services offered by them are Standard Removals Service, Man and van service, Packing service, Free removal quote, Insured, Undertakes urgent removals, Waste collection.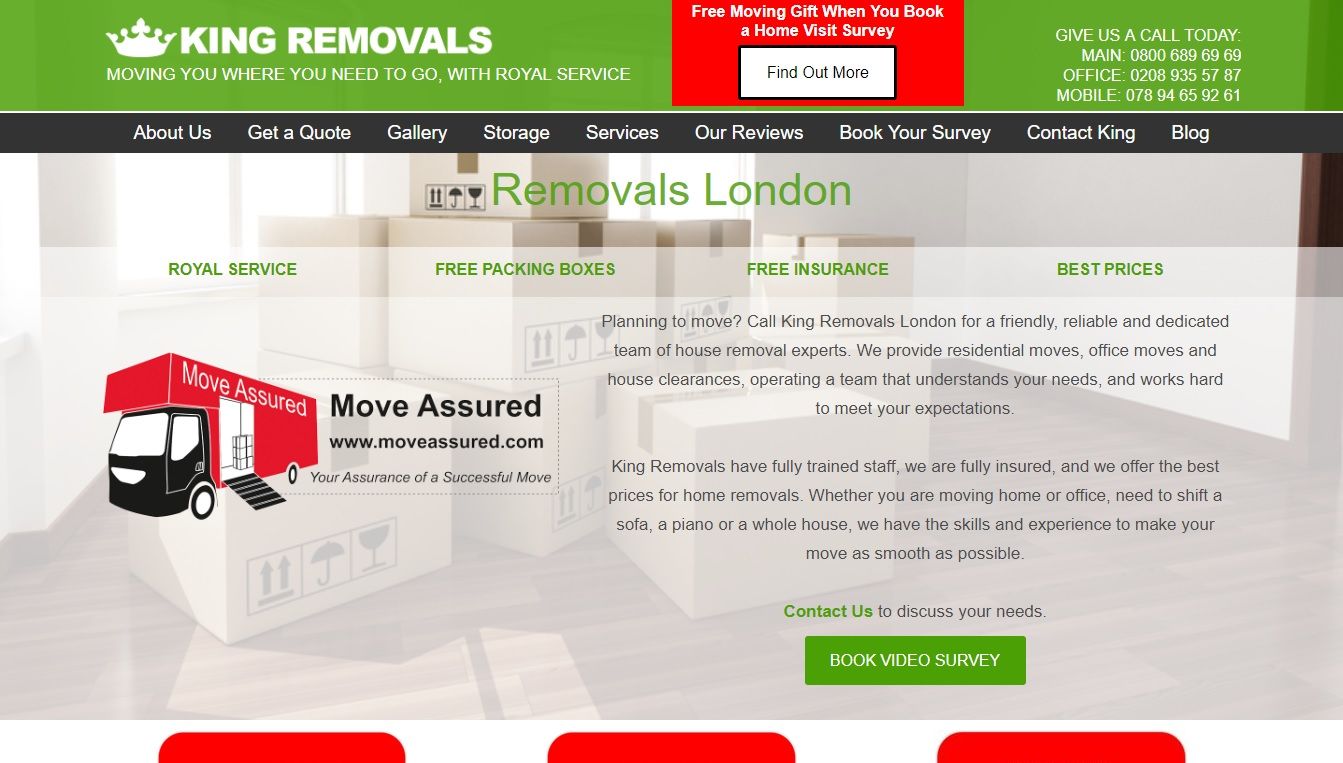 As the name suggests, King Removals provide royal service with the motto of delivering easy service at low cost. Their competitive advantage is that they provide different sized storage containers varying in dimensions to fit your requirements. 
They are reputed removal company in London. They offer top – notch service to their clients and specialize in house removals, house clearance and domestic cleaning service. 
They provide a wide range of removal services such as house removal, office removal, storage, man and van service, packing boxes, packing services, piano removals, furniture assembly and house clearance.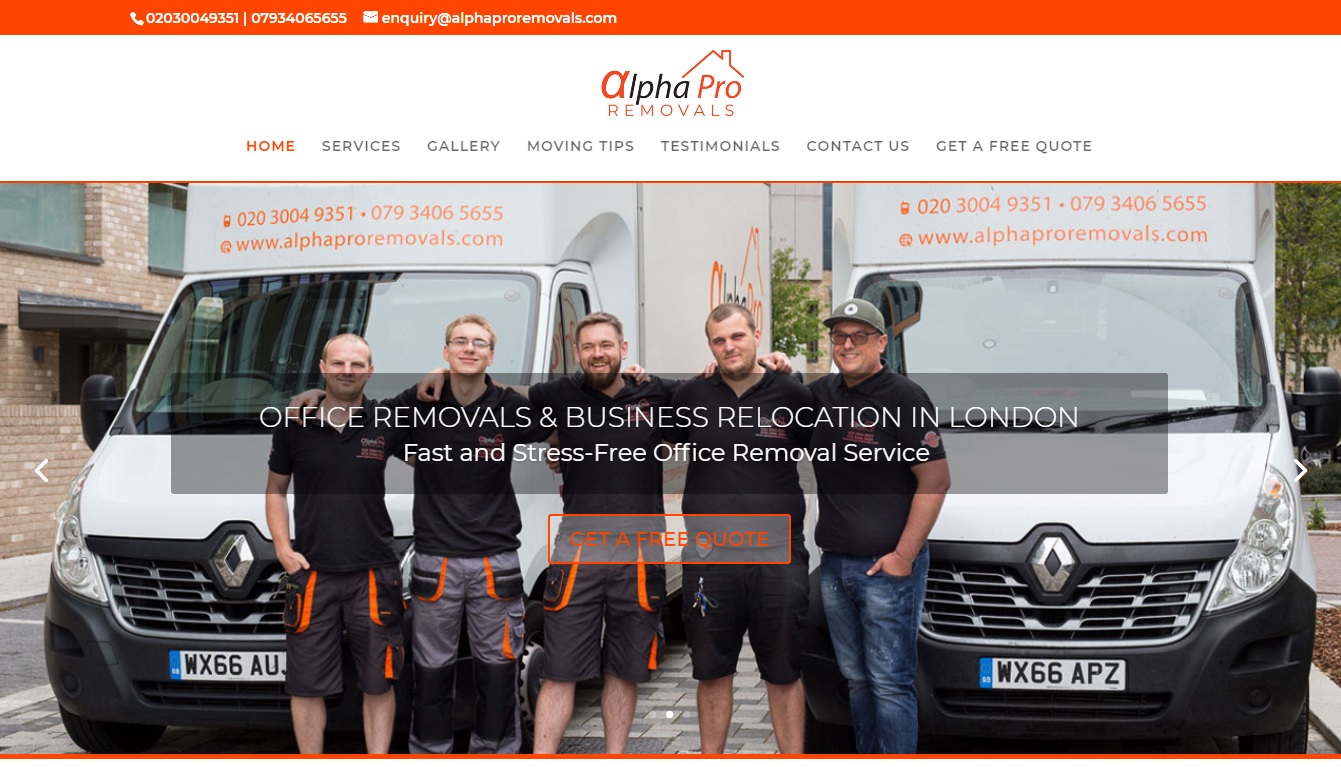 Alpha Pro Removals Ltd established in 2018 based on the idea of providing premium services to our customers with domestic and office relocations.
Being on the market for a bit over a year, we can say that we have great customers, quite a large domestic and office relocations projects done and willing to join removers associations like BAR to make ourselves being useful for a larger number of customers as we are constantly in a growth model.
We may not the cheapest removal company on the market, but we don`t want to be.
We invest in our people with continuous professional development. All of the team undergo specialists training to handle customers' personal items; it`s the little extras that make the Alpha Pro Removals difference.
Our crews are very much dedicated and have an individual approach to any moving job whatever its small or large relocation.
These companies will make your moving process simple and stress-free.
I hope you will find the right company from the above-recommended removal companies to meet your moving needs.
All the best for your move!
This list was compiled by Logicsofts. If you think your company deserves to be on this list, please send a mail to info@logicsofts.co.uk
General FAQ's
Q: What is the selection criteria of these removal companies?
Ans: We have listed removal companies based on customer ratings on Google Maps. Google provides a web mapping service called "Google Map" and a trusted source among local customers. You can easily access the list of removalists and take quick action based on their ratings. 
Q: Do you take job guarantee on behalf of listed companies?
Ans: No, we don't take job guarantee on behalf of these listed companies. We aim to connect you to the right business. Hence, you must ask all the necessary questions to the removal company before hiring them. We recommend you to take quotes from a minimum of four companies. 
Q: Do they provide removal insurance?
Ans: May or May not be, this depends upon your removal insurance. There are two main types of insurance cover- full cover and restricted cover. You must ask your removalists for removal insurance. Check whether your removals company has adequate insurance cover and a time limit to claim the insurance after the move.
Q: How much does it cost to use a removals company?
Ans: Costs are mainly calculated based on the volume of items.
One Bedroom:
– The average cost of hiring a van is £100
– The average cost of hiring a removal company is £400
– The additional cost of packing is £150
Two Bedrooms:
– The average cost of hiring a van is £200
– The average cost of hiring a removal company is £500
– The additional cost of packing is £200
Three Bedrooms:
– The average cost of hiring a removal company is £800
– The additional cost of packing is £250
Four Bedrooms:
– The average cost of hiring a removal company is £1,000
– The additional cost of packing is £350
Five Bedrooms:
– The average cost of hiring a removal company is £1,200
– The additional cost of packing is £400
Some of our interesting articles that might be of your interest
🙂 Top 9 Removal Companies in Manchester
🙂  27 Things to do in Manchester With Kids: Toddlers day Out
🙂 30 Fun and Romantic things to do in Manchester for Couples
🙂 How to Be a Successful Taxi Driver