Everything you need to know before relocating to the UK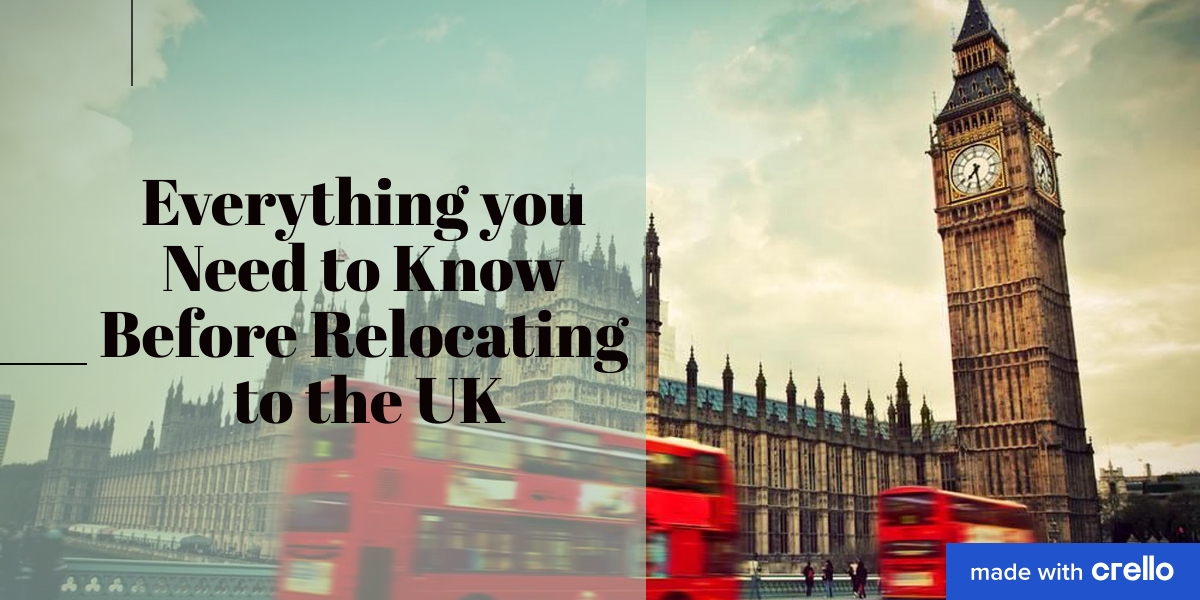 Posted By :
168 views
Relocation has always been a topic of concern for a lot of people who transfer from one place to another, especially continents, for various reasons.

These reasons involve better employment opportunities, education facilities, and suitable climate and so on.

Most of the times, people shift in the hope of a better future. But in some cases, people move unwillingly too.

Whatever the reasons may be, we are here to guide you in your entire relocation process. 
The UK- A lucrative destination for Expats
The UK has been a desirable destination for people. The history, the diversity, yet unity in culture, flexibility in the job markets – all of these cause people to relocate to the UK.

The rented houses are well furnished with complete safety of gas, electricity in place. There is excellent public transport facility throughout the UK.

The UK also has some hot tourist spots, which make your stay here more exciting.
Most importantly, the English language is the main essence of the UK. Hence you will not struggle with any local language here.

Here's to clearing and confirming some stereotypes
Monarchical rule- UK follows Monarchical rule. It is a democratic country but doesn't have a constitution. The monarch can intervene in the work of the Parliament.

London is not a raining city. It does not receive rainfall all over the year.

Britain is not just about eating fish and chips. All cuisines and dishes have gradually paved away in British society.

London has a unique position in the UK. It has the highest population (8.6 million) and also it is the most economically developed city in the UK.
Are you relocating to the UK: How easy or difficult can it get?
Having to cross the sea is a cumbersome and costly process. It needs a lot of time, money and patience. You will have to plan your entire relocation to avoid last-minute hassles and delay.

Brexit affects the relocation process for European citizens, but ex-pats are not affected by it yet.

Importing your pets to the UK can be a complicated process because you need to follow specific strict laws and regulations. You must carry the pet passport issued by its vet.
Only vaccinated pets can be taken to the UK. Contact your travelling company before knowing if they allow transporting pets or not.
Certain dog breeds cannot get an entry in the UK. Some landlords are reluctant to have pets in their house.
Certificates and Documents, you need for Relocating to the UK:
A valid passport ID and passport-sized photographs are a must. A completed DRF1 form is required for a derivative residence card.

Proof of employment, reference from the previous landlord, a short letter of job confirmation, copy of current employment contract are necessary in case of rental agreements.

Utility bills, mortgage statement, credit card statement, solicitor's letter etc. are needed for buying a property.

For school registration, medical certificates, CAS, letter of acceptance by the school, fee payment slips, and education certificates are critical.

All that you Need to Know About Housing:
Both the options for renting or purchasing are available. Although buying a house can be expensive and not affordable for everyone.

Renting is a relatively more comfortable and swift process, and some of the accommodations are fully furnished too. As you keep on moving to the south, the prices keep on increasing.

A government ID and a recent photograph are all you need to get accommodation on a short term basis.

Two types of tenancies are available – each month renewal system and another that has a fixed end date. For signing a rental contract, proper documents are essential.

Before moving to a house in the UK, always check for property certificates:
Property Information Form: This form gives you all the details about the property insurance, connection utilities, maintenance charges towards the building, boundaries of the property, warranty on the property of the building like that of solar panels.
You will also be able to lodge a complaint in case of disputes with the neighbours. This form also contains information about the parking space and transaction information such as your moving date etc. 

Energy Performance Certificate: A mandatory certificate to be obtained from the government to assess the energy usage and carbon dioxide usage inside the house. This ensures safety and allows room for fixation if required.

Gas Safety Checks: Another important documentation which helps in analysing the performance of the gas appliances inside the home. 
If the property you are opting for doesn't have the required safety certificates you can ask companies like London Property Certificates for required property certificates.

How to get a UK visa or work permit?
Applying for UK Visa or obtain a work permit can be worry some task for you. Here are 3 tips that can help you obtain one: 
When you apply for a UK visa, it generally permits you to live and work there for usually up to two years. There's a point-based immigration system.
Points are allocated according to your capability to contribute to the economy. It also depends on your ability to look after yourself.

The requirements of UK visa also depends on the fact that whether you are a Tier 1 applicant or Tier 3 applicant.

A medical examination of tuberculosis is also a must if you want to stay here for more than six months.
Healthcare facilities in the UK:
Majority of the people in the UK depend on NHS or National Health Service for all their medical needs.

Most of the healthcare services are free of cost for the residents as well as non-residents. On reaching the UK, contact a general practitioner, and he/she will register you to the NHS system.

Some treatments, like dental care, are out of the NHS system. Public healthcare is generally all-inclusive, other than exceptions like dental care, wigs, eye care etc.
Other than this, people can also opt for private health insurance. This will give you access to hospitals, specialists, private doctors and even NHS facilities.

The Education Scenario in the UK:
Understanding the schooling system can be a bit confusing. There are lots of options you can choose from. Of course, you will select the best for your child.
Private schools can be expensive although they provide you with a higher standard of education, small class size, better teaching facilities etc. Admission is merit-based and also depends on the availability of seats.
State schools are comparatively affordable. Parents mostly prefer state schools. Proper research about the school is a must.
A visa and certain documents should be there to get admission in a school in the UK.

Work-life in the UK:
Working in the UK can be an enriching and exciting experience. Expats find the accessible business as well as job culture in the UK very attractive. London, mainly, attracts a lot of foreign employees and global companies
If you can speak fluently in any language other than the British languages, you will be entirely in demand no matter which profession you are in. 

If you are from an EEA country or Switzerland, then you need not apply for work permits. Bulgaria, Croatia or Romania citizens need a work permit. If you belong to none of the nations mentioned above, then you will need a visa as well as a work permit.

Excellence in English language skills is necessary.
We hope that we have cleared all your doubts by now. Happy relocating!