Moving to Plymouth? 12 Places You Must Visit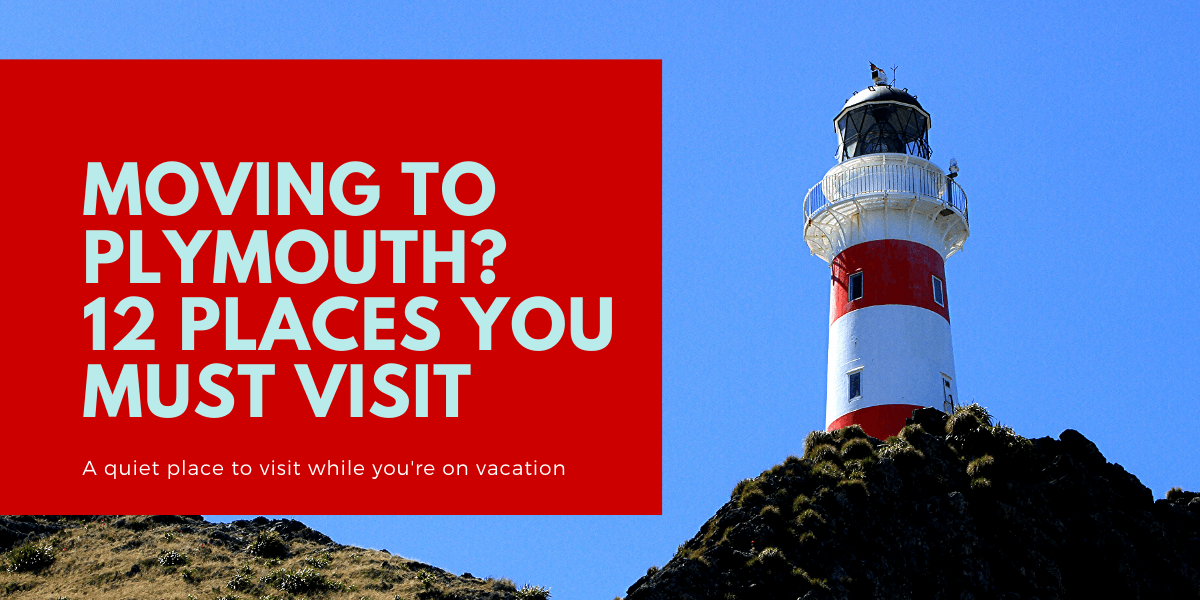 Posted By : Hashim
3,503 views
Ranked as one of the most important historical places, Plymouth is also among Britain's largest seaports.
This place is located between Cornwall and Devon and has become a sizeable city with time.
Places like Devonport and Stonehouse attract tourism to this place.
Plymouth also has a coastal city between hills to adjoining bays.
Extensive gardens and parks with meadows and woodlands make the place attractive.
This place has something to suit multiple tastes.
So if you are either planning to move to Plymouth or visiting it as a tourist, make sure to keep the below discussed places in your itinerary.
This list entails places that are globally popular to secret havens.
1. Plymouth Hoe
View this post on Instagram
This place is used as a point to survey the Sound and the west side of the English Channel. The place offers you a complete view of Plymouth Sound and Mount Edgcumbe and Drake's Island. Some of the must-visit places are atop the Hoe, such as Smeaton's Tower and Royal Citadel.
View this post on Instagram
This place offers you a look into the vast natural harbor, Royal Navy vessels, and water traffic. You can see an immense water body from the east between Anduin Point and Mount Batten.
In the way, you will see colossal faults caused by tectonic pressures. The path is cluttered with coastal forts built in different periods.
3. National Marine Aquarium Plymouth
View this post on Instagram
The largest aquarium is in Plymouth opened in Sutton Harbor. This aquarium has 4,000 individual animals from four major zones. You can spot rays, sharks, crustaceans.
The Eddystone Reef has all the marine life from conger to hound sharks. The Atlantic Ocean is the largest shipment of live fish and inculcates barracudas and tarpon. Blue Planet shows the world's ocean biodiversity.
View this post on Instagram
This place is just three miles away from Plymouth built in 1750 and has modified since construction. This Georgian mansion comprised of 500 acres of farmland that has marshes, and woods.
Saltram House was planned by Scottish architect Robert Adam. Many generations of rich Parker family stayed here. The Neoclassical residence has a painting collection by Joshua Reynolds.
You will see valuable ceramics, textiles, refined saloon and kitchen with antique range. Once you have viewed the interior make sure to spend time looking at the unspoiled woodlands, ground, garden, etc.
View this post on Instagram
Royal citadel is on the eastward of Plymouth Hoe. This was built in the 1600s in the time of King Charles II.
The place is still controlled by the British Army you can go for two-hour tours between April to September on Mondays, Tuesdays, Thursdays, and Sundays. You will get to know about the history of the fort and the role in the 19th century.
View this post on Instagram
When you reach the center of Plymouth Hoe, you will see a war memorial. This belongs to commonwealth sailors who lost lives in the World Wars and didn't have a burial place.
The names of 7,251 sailors are here who were missing from the First World War. The memorial was designed by Henry Lorimar and Henry Poole.
View this post on Instagram
The oldest gin distillery can be found in Plymouth since 1793. This building earlier was a merchant's home and afterward a goal and congregational home before the present modification.
Plymouth gin is produced by the distillery. You can visit the place for a testing session.
8.  Royal William Victualling Yard
View this post on Instagram
This place is a former Royal Navy property released by the Ministry of Defense. The place has a group of distinguished buildings right from the 1820s and 1830s created by Sir John Rennie.
It was converted to a posh waterside after the 90s with yachts docked and different restaurants. You should dip in the summer and also attend public events to take a holiday feel.
9. The Barbican
View this post on Instagram
Pay a visit to Elizabethan House to see 16th-century architecture. This place is a delight to see with Elizabethan Garden. Similar interesting places are nearby Southside Street pf 14-century Dominican monastery. You can find pleasure ships to explore the harbor and Plymouth Sound.
The Mayflower Museum is the most interesting place for American tourist. This place has a fascinating history of renowned vessels' voyages. Other famous Barbican highlights are the Barbican Theatre, National Marine Aquarium, Plymouth Arts Centre. You will also find shopping and restaurant places here. This place conducts events like food festivals and concerts.
10. The Mayflower Museum and Steps
View this post on Instagram
Does Britain's naval history interest you? Well, don't miss the visit to Mayflower Museum then! This place highlights the journey taken by the epic by the Pilgrims to the New World.
You can try period costumes, participate in fun games. Do take a picture at the Mayflower Steps. This historic gateway was created in the memory of the Pilgrim Fathers.
11.  Crownhill Fort
View this post on Instagram
The place was built in the 1860s. Crownhill is the largest preserved Plymouth's ring of Victorian Forts. You will see tunnels, cannons, ramparts, and dry moat.
This place offers guided tours and you can take multiple historic reenactments the whole year. To make your experience unforgettable, book overnight stays at the fort. The fort offers luxury suites converted by Officers' quarters.
12. Mount Edgcumbe Country Park
View this post on Instagram
You can take a ferry service from Plymouth to Cremyll. Here you can see the Edgcumbe Country Park. This park has two villages: Cawsand and Kingsand. These two places are a great example of an English 18th-century interior design. This place includes a collection of fine paintings and furniture.
English porcelain, rare Chinese and Bronze Age horn originated from Ireland can be seen here.
Make sure to spend some time in landscaped park where you can see multiple exotic plants.
Other interesting things are fortifications, follies, and temples.
If you want to make your stay longer then quaint cottages are available here.
This place offers a great variety of places to explore, you can have an end number of things to do in Plymouth.
You can see the beautiful architecture and interesting history to a fun concert.
Hope our list of tourist attractions in Plymouth will help you explore your new home in.
If you are moving to Plymouth any time soon and have a small move then a man with a van company can help you. For a complex moving, you can get multiple quotes by comparing top removal companies in Plymouth before making any decision or hire a reliable and award winning Plymouth Removals for hassle-free move.