Calculate your fares!! Using our journey calculator
WELCOME TO ALL-
UNITED MANCHESTER

TAXIS
All-United Manchester taxi service was set up in 1968 and has over 40 years of high quality taxi and private hire service across South Manchester. Our core objective is based around providing our customers excellent Manchester taxi service. In those days we started our services by choosing the most reliable, comfortable and safe car for our passengers and one thing which is the most important for us is to maintain the same guidelines. We constantly are working on the safety issues, so that our customers enjoy their drive.
With the change in time and technology, traffic is now a major challenge for everyone than ever. The only thing which remains the same is our exceptional service. Situated in South Manchester, we confidently drive our passengers to any destination in Greater Manchester. We are the suitable choice among the people of North-West due to our advanced equipments and vehicles.
To get the exceptional Manchester taxi service you can call us 0161 224 24 24 at any time.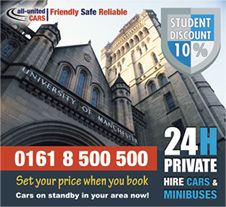 We provide an online booking service, as well as a telephonic taxi reservation facility to our customers. Our vehicles offer transportation to anywhere within the city of Manchester and airport transfers for groups and individuals to Manchester and other UK airports.
We accept payment by Cash, Corporate Accounts, Credit & Debit Cards as well as GMPTE Travel Vouchers.
Established back in 1968 we have gained a reputation as a high quality Manchester Taxi firm providing our customers with a reliable taxi service combined with excellent customer service.
All-United, All-Efficient
All Professional, All of the Time!
OUR BENEFITS
TRAVEL THE WORLD WITH OUR PROFESSIONAL DRIVERS BEHIND THE WHEEL.
COMPLIMENTARY WAIT TIME
Don't Worry | Don't Hurry
We prefer 60 minutes of free wait time during airport transfers and 15 minutes for other pickups. Don't worry and take your time, your taxi will be waiting for you outside.
Calculate Fares In Advance
Know Your Trip Cost | Hop-In
Know your trip fare in advance which includes all the taxes and tolls. There is no hidden cost. So, don't bother about the bill and enjoy your journey carefreely.
Expert Drivers
Licensed | Insured | Superintended
We incorporate a team or proficient and dexterous drivers who have a valid license, permissions and massive experience on roads. Don't worry about reaching the destination, just celebrate the journey!
Taxi on Your Fingertip
Download Mobile App | Book | Pay
Download All-United Cars mobile app from App Store and Google Play for both iPhone and Android devices respectively and you may be lucky to get a free ride. Book and pay through our mobile app and avail regular discounts on fares.
Hashim was so nice and friendly and asked us where our interests lay with the goal that he could tailor the visit for us. We have a feeling that we have a genuine companion in Manchester and will see Hashim whenever we come to Manchester.

Rhys Bell
Very fast, friendly & reliable service. I've been using All-United for over a decade and will be using them always.

Shah Miah
Very Fast and friendly service! I was late for work and needed a cab as quick as possible. They picked me up within 5 mins of booking. Thank you!!

Sophia Major
Very impressed with the service I received! I forgot my wallet in the back of my taxi, I didnt realise until a couple of hours and the driver was more than happy to come and drop the wallet to me. All my money and cards were still there. Excellent customer service and would definitely use again.

Liam Morris
I'm from Manchester And live abroad when i go back home all-united Cars help me in my trips and visits when I'm in Manchester with a great organisation and great prices. Thanks Guys.

Nas Sharif
I have used this company many times very helpful on the phone and always fast getting to you would recommend this tax year firm

Shaun Brown