31 Free Things to do in Manchester – Travel Free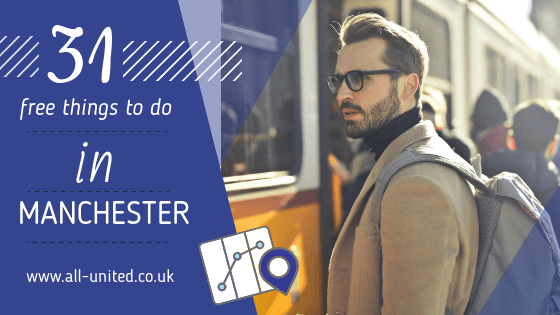 Posted By : Hashim
10,823 views
Manchester is an amazing place to visit and is a city that has a variety of options for tourists to enjoy, with hardly any pocket pinch. From activities where you can learn from your experiences to places where you can go relax and have fun.
Here are 31 free things to do in Manchester –
The Northern Quarter of Manchester

The Northern Quarter of the city is one of the places where the vibrant culture is easily identifiable. Without any of the modern, generic chain stores, it is a perfect place to visit to satiate your appetite for art, boutiques, bars, and everything vintage.
Chetham's Library

With upwards of 100,000 printed books, the collection of this library is recognized for its historical value. What's best about the library, is that it is completely free to visit and soak in the words that have been left behind by ages past.
Heaton Park

The largest urban park in Manchester, it is full of activities like tennis courts, boating, an observatory, an adventure playground, to name but a few.
The Museum of Science and Industry

The Museum of Science and Industry is a sight to behold, with 5 buildings containing the Manchester's past, present, and future.
The Metroshuttle

The Metro shuttle is a free transport service provided by Manchester to travel to and fro Manchester's market and business areas.
The Runway Visitor Park

Located near Manchester's airport, this spot is great to visit, observe and even board planes. With recreational shops nearby, this free destination is a great option for those enthused about planes.
Manchester Cathedral

The Gothic style of architecture, though once damaged by the IRA bombing, has since been repaired and retains the beauty and grace that it is famous for.
Stamford Park

In the central Greater Manchester, this park has facilities like an aviary, open green area, boating, and water fountains, making it a destination for people of all ages.
Portico Library

The grand interior of this library has an amazing collection of books. You don't need to be a registered member to visit this library and former newsroom.
Bridgewater Canal

Built 250 years ago by the Duke of Bridgewater, the canal held a key role in the Industrial Revolution. With refreshments on either side of the canal, the towpath provides an excellent method to traverse its entire length.
Congleton Paddling Pool

Just as the name suggests, this pool is perfect for summer and is usually very busy because of its popularity with children.
The Lowry

L. S. Lowry's work is displayed in this building, and also has a theatre which provides entertainment alongside the bars and restaurants.
Queen's Park Heywood

Home to an amazing children's playground, this park also has a great gym, alongside an outdoor theatre, tennis courts and a BMX track.
The Whitworth Art Gallery

A variety of fine art can be found in this Art Gallery, which also has a beautiful outdoors section with a Landscape Gallery and Art Garden.
National Football Museum

A visit to Manchester is not complete without football. This museum has everything needed to learn about the Nation's favourite sport alongside activities.
Fletcher Moss and Botanicals

The park is cared for and filled with different sorts of birds while being home to tennis courts and football pitches.
John Ryland's Library

Paying homage to one of the city's top industrialists, this library has unique architecture and a good collection of books.
Piccadilly Records

The strong music scene in Manchester can now be found here, in the form of records from Oasis, Stone Roses and Take That. It is located in the Northern Quarter of Manchester and has won awards for its collections.
Barton Swing Aqueduct

The aqueduct carries the Bridgewater canal across the shipping canal and has swings which are a unique feature.
Lunchtime Concert at the Chetham's School of Music

The biggest music school in the United Kingdom provides lunchtime music and 45-minute concerts portraying solo artists or whole ensembles.
Walking Tours

A great way to get a sense of the city is with the help of the Walking Tours apps, which highlight landmarks and point out the hidden secrets of the city.
Manchester Art Gallery

This gallery is home to 25000 pieces of beautiful art and crafts. Manchester Art Gallery hosts a variety of events throughout the year.
Affleck's

This is a market made for the difference that it portrays, being indoors and with goods and services like tattoo parlours, sweets, record shops, etc. to browse through.
Castlefield

Castlefield is a conservation site in Manchester and is next to River Irwell and Medlock. Dating back to the Roman Times, this is perfect for a trip down ages past of times long gone by.
People's History Museum

Talking about times long gone by, the People's History Museum covers the history of the struggle of the British Working Class to achieve equality and has a number of engrossing exhibitions.
Prestwick Forest Park

A perfect hidden destination, this is one of the most peaceful parks, be it for a walk or a picnic.
Media City

This is the home of the BBC, and may also be the location of most of the famous TV programmes which air. You can be a part of the audience for one of the shows, or take in the sights and sounds from the picturesque location.
Centre for Chinese Contemporary Art

With a number of exhibitions and a history of featuring amazing artists, the Centre also hosts talks and various kinds of workshops most of which are free to participate in.
Albert Square

The Manchester Christmas Market is one of the many events that take place in this square, which requires everyone's attention and is free to visit.
Manchester Town Hall

A Grade I listed building, visitors can roam the rooms to take in everything about this beautiful building.
Trafford Centre

This shopping center is vibrant with variety, and the design adds to its Magnificence. It is a great place to get an idea of the modern culture of Manchester.
There are many other places to visit in Manchester and most of the pretty places are free to visit!
What are your free things to do in Manchester? Tell us on Twitter and Facebook 
To go around all these places in Manchester: Didsbury, Rusholme, Withington and few more. All United provides taxi and cab services with safety and assurance.
Suggestion Reading –
The Ultimate Guide to Brighton Photography Studio
🙂 List of fun things to do in Manchester for Adults
🙂 6 Best Restaurants in Didsbury for foodies
🙂 Top 10 Calendar Printing Companies in the UK