6 Best Restaurants in Didsbury for foodies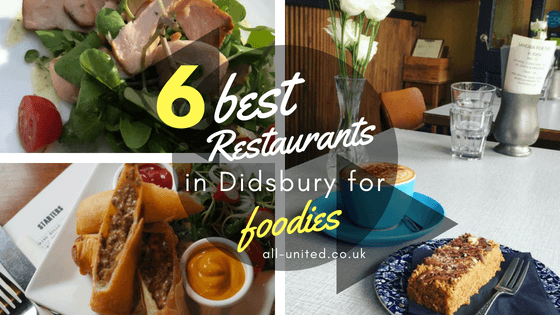 Posted By : Hashim
9,990 views
Didsbury, one of the best places in Manchester for foodies, is lined with many places for you to indulge in the delicious suburban food!
Dotted with premier as well as local chains, one can find food of any kind and fall in love with the area!
Be it a tourist or a local, you will never run out of food to eat here. With many options for you to taste and find happiness in, Didsbury is a paradise for every food lover.
If you're here for a while and are looking for the perfect options for the Best Places to eat in Didsbury, here are some options to look into:
Volta: A place with a splendid menu, Volta offers you many options to dive into. Creating magic with the help of normal and generic materials, the Saturday and Sunday lunches are a thing to remember. Spend your time here enjoying the delicious meals served in the best fashion, and unleash the foodie in you!
Opening Times:
Monday – Friday midday – 1.00am
Saturday 11.00am – 1.00am
Sunday 12.30pm – 12.00am
Solita Restaurant: One of the best restaurants in Didsbury, this restaurant offers you a huge list of delicious foods. Offering you a spread of fast food, this restaurant helps you find just what you need out of any eatery. Offering you spring rolls, buttermilk fried chicken, and addictive cheeseburgers, this place is the place for you to be! If you have kids along with you, then there is no better place than Solita Restaurant in town!
Opening Times:
Mon Tue Wed Thurs – 12.00pm to 10pm
Friday Saturday – 12:00pm to 11:00pm
Sunday 12.00pm – 10.00pm
The Lime Tree: In a mood for something extremely different and special? Head over to The Lime Tree. With a seasonal menu, the place offers you a feast from only what is raised and reared at their own farms. With the help of their own produce, the restaurant offers you the best and tastiest meat including beef and juicy lamb! Apart from this, the beverages served at this restaurant are some of the most delicious ones to indulge in!
Opening Times:
Monday – Closed
Tue Wed Thurs Fri – 12:00pm to 2:30pm, 5:30pm – 10pm
Saturday – 10:00am – 10:30pm
Sunday – 10.00am – 6:00pm
Indique: Owned and run by an Indian Couple, this place offers you the authentic Indian experience in Manchester. Set in the perfect space, with beautiful and calm interiors, the restaurant offers you a majestic spread of the Indian Cuisine and helps you find just what you need in an Indian Restaurant. From the ambiance, to the aroma of the food and to the entire feel of the restaurant, there is no better place to try Indian food that Indique.
Opening Times:
Mon Tue Wed Thurs – 5:00pm to 10:30pm
Fri – 5:00pm to 11:00pm
Saturday – 1:00pm – 3:00pm, 5:00-11:00pm
Sunday – 1.00pm – 3:00pm, 5:00-10:30pm
Ida's Fish Bar: A huge fan of fishes? Well, then Didsbury has just the thing for you. Ida's Fish bar is reinventing the English staple food with creativity and beautiful dishes. Find your favourite dish here or try something new, this fish bar offers you the freshest and some of the most delicious kinds of food inspired from fish. Indulge in the fish chips, order clam chowder or find something extremely different as the fish tacos only at Ida's Fish Bar!
West Didsbury Makers Market: Not in a mood for something mainstream? Well, then try to clear out your Sundays and find your way to the coolest and the quirkiest markets in the city. From homemade and baked foods to enjoy live music with DJs and other people, this place helps you find the perfect blend of food and enjoyment! Find a fix to your sweet-toothed desires by looking through cupcakes, ice cream choices, waffles, brownies and award-winning pies!
If you are in Didsbury, then be sure to carve some time out for only eating.
This suburb is loaded with beautiful places to find the food that you want and satisfy your cravings.
Other than this, you can find various fresh choices for food and drinks.
Unleash the foodie in you while you are here in Didsbury and make the most of your stay here!
Go and try some yummilicious food!
Don't forget to comment your favourite restaurant in the comment box.
If you would like to travel with ease in Didsbury you can book and enjoy our Didsbury Taxi Service.
Some of our best-read article
🙂 31 Free Things to do in Manchester – Travel Free
🙂 30 Fun and Romantic things to do in Manchester for Couples
🙂 Top 10 Calendar Printing Companies in the UK





(2 votes, average: 5.00 out of 5)


Loading...